Exhibitions
Current Exhibition
December 8, 2022 - March 27, 2024
Georgia O'Keeffe: Making a
Life
Santa Fe, NM Georgia O'Keeffe Museum
Georgia O'Keeffe: Making a Life explores the artist's identity as a "Maker" – an individual who carefully curated her life, personal style and artistic practice.…
Explore Exhibition
Current Exhibition
December 2, 2022 - October 30, 2023
Radical
Abstraction
Santa Fe, NM Georgia O'Keeffe Museum
With a career spanning over six decades, Georgia O'Keeffe has been celebrated for her paintings of flowers, animal bones, and landscapes. Less well known is…
Explore Exhibition
Current Exhibition
December 10, 2021 - April 11, 2023
Spotlight on
Spring
Santa Fe, NM Museum Galleries
Spring, 1948, one of the largest paintings by Georgia O'Keeffe in the Museum's collection, has recently undergone a months-long conservation treatment. As part of this…
Explore Exhibition
Past Exhibition
January 1, 2022 - December 31, 2022
Selections from the
Collection
Santa Fe, NM Museum Galleries
An ever-changing group of selected works from the Museum's collection are displayed in several thematic galleries at the Museum in Santa Fe. These galleries share…
Explore Exhibition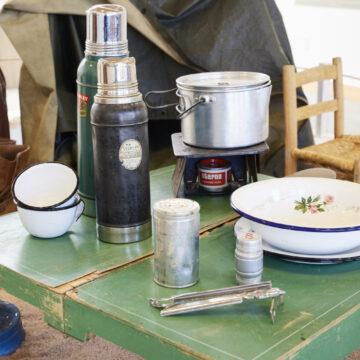 O'Keeffe in the
Landscape
Abiquiú, NM Welcome Center, 52 miles north of Santa Fe
While living in New Mexico, Georgia O'Keeffe's relationship with nature deepened as she spent extended amounts of time in the landscape, exploring the rivers, canyons, and painted cliffs that made up her surroundings during numerous camping and day trips. O'Keeffe in the Landscape explores these excursions through the photography of her friends and the personal effects she brought with her on her trips, including camping gear and clothing. The exhibition will be on view at The O'Keeffe Welcome Center. The exhibition is free and open to the general public.
Explore Exhibition
Visit the O'Keeffe Welcome
Center
Abiquiú, NM Welcome Center, 52 miles north of Santa Fe
Find your way to the O'Keeffe Welcome Center in Abiquiú to explore the O'Keeffe in the Landscape exhibitions. A visit to the Welcome Center is free and open to the public. Ticket purchase is needed to book a tour of the Home and Studio.
Visit the Welcome Center
Upcoming Events