The Georgia O'Keeffe Museum's mobile creativity studio, Art to G.O., is on the road! We have on-the-go art making and creative activities for participants of all ages and will be visiting libraries, community centers, schools, parks, senior centers, and festivals all year long. Non-profit and public service organizations anywhere in New Mexico can request a FREE visit by filling out the request form below.
Questions? Art to G.O. can be reached by email at [email protected] or by phone at 505.946.1007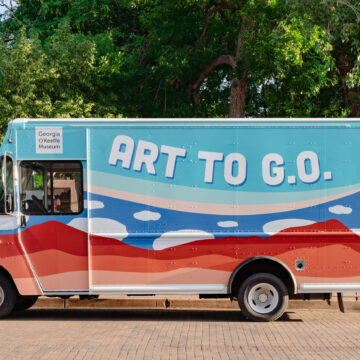 About Art to G.O.
Launched in Spring 2023, The Art to G.O. truck is a mobile studio designed to bring art-making experiences into New Mexican communities. Through the Art to G.O. initiative, the Georgia O'Keeffe Museum aims to uphold its commitment to serving local populations by building sustainable relationships with people and organizations in and around Santa Fe. 'In and around' can mean as close as Santa Fe or as far as Farmington. New Mexico's visual arts culture is diverse and rich, we hope to uplift that history and support the communities around the state that have made that a reality.
What It Does
The Art to G.O. truck supports the efforts of educators, community organizations and cultural institutions that foster spaces of curiosity, inclusivity, and connection. Art to G.O. activities vary according to the interests and needs of our community partners—from making alien-themed buttons at the UFO Festival (hello Roswell!) or hosting art-making activities at an elementary school field day (hello Abiquiu Elementary!) to co-creating workshops that bring local artists into community settings to develop immersive arts experiences.
What can the Art to G.O. truck do for your community? Art to G.O. is available for booking today!
See Art to G.O. at These Upcoming Events!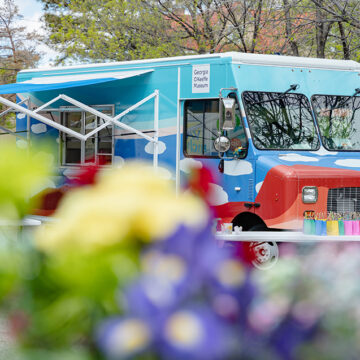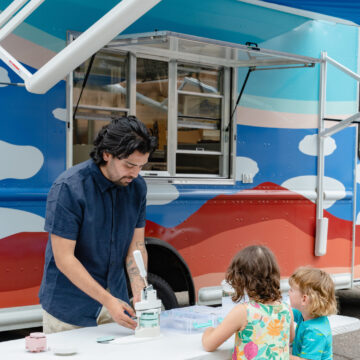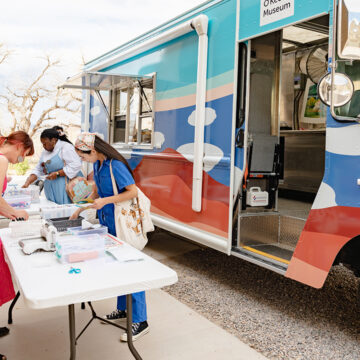 Art to G.O. is driven by the generosity of individuals like you. Support our work to educate, inspire, and deepen engagement with local audiences by making a gift to the Museum's Annual Fund today.

Art to G.O. is fueled by our generous sponsors: